There has been so much amazing energy in 2016 – we are having a blast with the whole team around the world! And of course, it's always amazing to congratulate some of our favourite brands when they celebrate a special occassion. That's why I am happy to share that my go-to online shopping site, eBay Deals, is celebrating their third birthday in Canada. In celebration of eBay Canada Deals' birthday, from June 15-22, you can get even deeper discounts off up to 70 per cent off on popular home & garden items, fashion pieces, consumer electronics and more. To join in on the festivities, I'm sharing a few of my favourite items with you AND I've got an amazing contest for three lucky Canadians to WIN something special of their own thanks to DoTheDaniel.com
Now that Julio & I have enjoyed a wedding, it's time to start thinking about the next big ticket items in our lives. From purchasing a home, to starting a family, I am aggressively pinching pennies where I can. That's why when I was introduced to eBay Deals a few years ago I knew that it was yet another reason to love the eBay Canada experience.
Not only do I find items for the kitchen for me, but also beautiful fashion for him… all while saving money? It's a no brainer really and we've been fans for a LONG time!
It's not just about us though. I'm also checking out ebay.ca/deals daily for Father's Day and of course our niece Rebecca is celebrating her first birthday in September. The fact remains that Canadians are shopping more and more online – so why not find the deals you deserve while doing it?
So what are some of my favourite items on eBay Deals right now?

Who doesn't love a good statement watch? But I don't like the idea of spending a fortune on this must have men's accessory either. That's why this is one of three watches I have my eye on right now… decisions decisions…

Prada Catwalk Cinema Brown Sunglasses
For me, sunglasses are very much an accessory that I change regularly. I like to have a solid collection on the shelf to chose from. And hey, I work hard, so I deserve it! Thankfully I can enjoy my little addiction to designer sunglasses with a smaller price tag. It's a win win!

So that's all gibberish to me.. but I also know that Julio loves his designer bags. What he doesn't know is that I love to buy them for him, but I've got a baby to save for too! So I check out the deals on eBay Deals regularly to see what bags I can afford while satisfying his need for the latest fashion #musthave.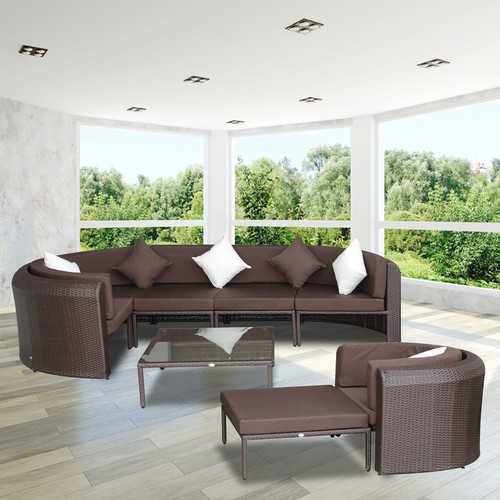 Outsunny 8pcs Wicker Sectional Outdoor Patio Rattan Sofa Set Coffee
Though an 8 piece may be a bit excessive, I do need to get an outdoor set of furniture to start using my patio. As a Torontonian, we unfortunately haven't taken advantage of our outdoor space in our condo and that has to change. I love the look of this furniture and it's a great starting point to finding what I need for a fraction of the cost.
As you can see, eBay Deals offers savings for pretty much anything you would want to buy online. From fashion to foodie items, clothing to gifts. There is a reason why we've used the site so many times over the years and can't wait to continue to do so as our family grows. SO. Who wants to celebrate #HBDebayDeals with us and WIN?!
I am giving away THREE #HBDeBayDeals themed prizes to three lucky Canadians!
Step 1:
Follow @DoTheDaniel & @eBayCanada on Twitter
Step 2:
Head to ebay.ca/deals to find what item you love most. Share the link of the item with the following:
To celebrate a #HBDeBayDeals with @eBayCanada & @DoTheDaniel, look at the great deal I found! (with a link to the item)
AND since we are feeling generous, there is NO LIMIT to the amount of times you can enter!
** Winner must be following all twitter accounts as listed in Step #1 to be deemed valid. Contest odds depend on how many valid entries are received. Contest will run until Wednesday, June 22nd 2016 at 9:00am EST. THREE winners will be chosen at random and announced via @DoTheDaniel's Twitter after Wednesday, June 22nd 2016 at 9:00am EST. Prize cannot be redeemed for cash value. Contest winner will be contacted via Twitter and subsequently emailed instructions on how to have prizes sent to them. Contest open to Canadian residents only. *
To see what amazing items are available RIGHT NOW make sure to check out eBay Deals at ebay.ca/deals to get your hands on top-quality products at great deals.
Don't forget to join in on the social media conversation around the birthday festivities by following @eBayCanada on Twitter and 'Liking' the eBay Canada Facebook Page. Follow and use the #HBDeBayDeals hashtag to see what Canadians from coast to coast are coveting most. We can't wait to see your favourites!
Photos: ebay Canada, ebay Deals & Daniel Reyes
Cheers & Good Luck!
*Please note that this is a sponsored post – our disclosure can be found at all times by clicking here.