Well hi friends! It's been a little while since we last sat down together. With a new job, a changing season, working through personal struggles and accomplishments, life got busy as they say. Not to mention I am itching to revamp the look and feel of the blog but I need to find someone to help me with that. I guess that's where I've been – and for many of you the feeling is mutual. Like stepping back into the wilderness and navigating the beauty and danger of it all. Let's focus on the beauty for a moment, shall we? The excitement of the unknown, the path less traveled and the beauty of the journey can be quite soothing for the soul.
She's back with her analogies apparently! I know that there is a lot on our minds these days but with the spring slowly making its way to us I find myself coming out of a funk that I was really stuck in. It's funny in a way of me to think of feeling stuck because the last time I was feeling this was was right before our most recent trip to Vancouver last December (details here). I remember the literal feeling of finding myself and feeling grounded when we explore the forests and shorelines of Vancouver.
It's quite difficult to describe, but it is nothing short of palpable. If you haven't experienced it yet I encourage you to do so as soon as you can – there's magic there. I guess it's one of the many reasons why I've fallen in love, and subsequently haven't stopped purchasing, BEARFACE Whiskey which is now available in the LCBO.
I've tried a lot of Whiskey in my life for the blog and I've heard a lot of origin stories, but this one speaks to that magic and sense of finding ones self in nature and the wild.
"Our home is on the edge of the inspiring Canadian wilderness.
This is the gateway to Bear Country with miles of unexplored forests, mountains, lakes and rivers on our doorstep. We work with the wilderness and its powerful natural elements to transform our whisky into something more wild and adventurous."
I actually couldn't love the adventurousness of this all any ore than I already do.
"Matsutake is to whisky what an olive is to a martini." says Masterblender Andres Faustinelli. Found in The Monashee Mountains of B.C, these mushrooms have extremely limited volume and only a small window of opportunity for 4 or 5 days in September each year. Typically hidden under moss, but very floral so you can often smell them before you can see them. Think about how much thought and effort that took and the masterful process it would take to use such an ingredient.
BEARFACE Single Grain Whisky uses the unique, forged Matsutake mushroom and is finished in 3 different styles of sherry casks. The result of is a complex, layered whisky with nutmeg, cinnamon and rounded nuttiness, followed by a leafy earthiness with an umami finish.
I mean…. C'MON. That's literally amazing. But it doesn't stop there. They then age the whiskey in the elements. YUP. Right in the heart of the wilderness this incredible products fluctuates and in infused with the makings of the great wild in all her glory.
MIND. BLOWN.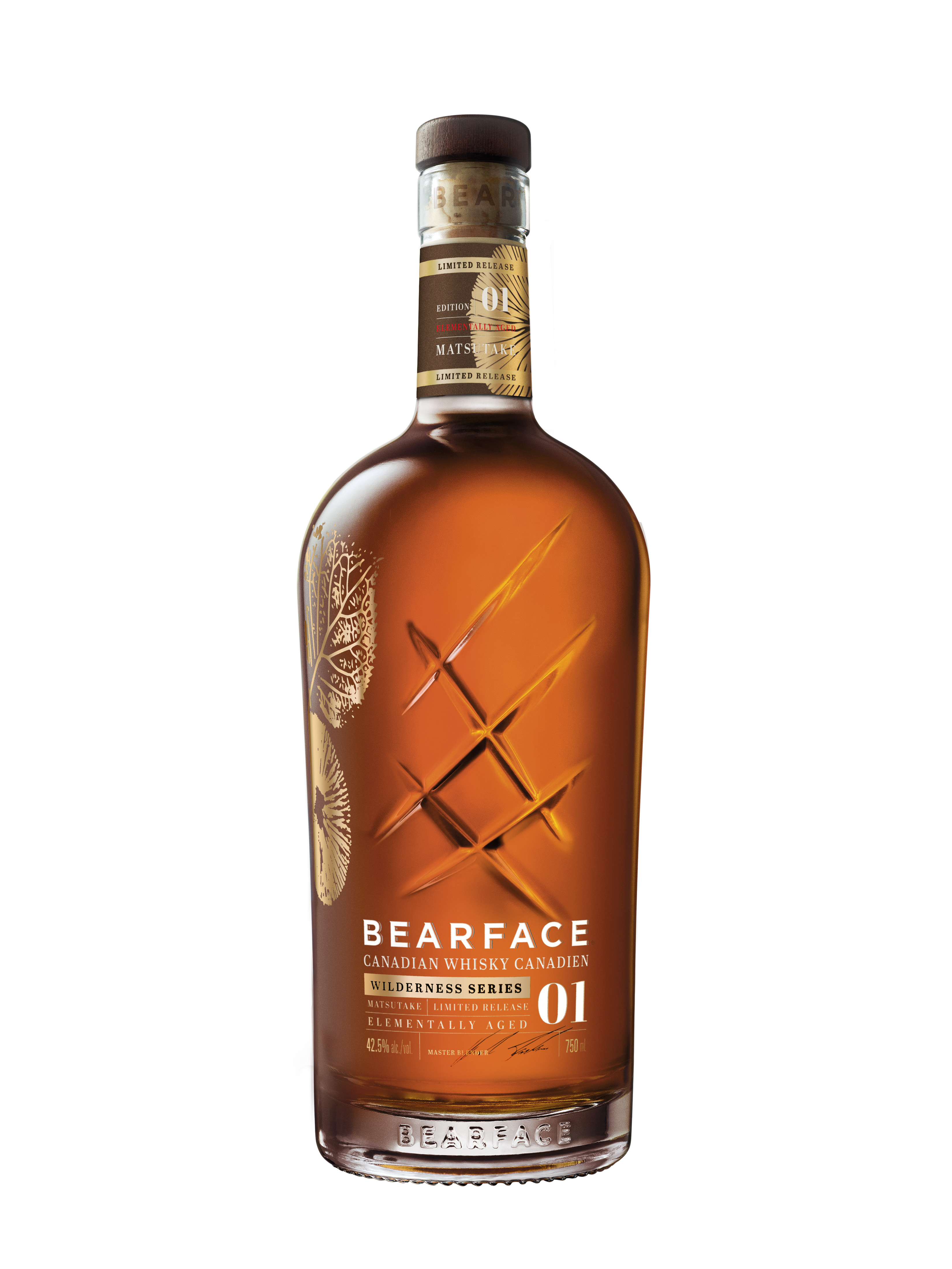 Bearface is a Canadian whisky company whose purpose is to return Canada to the world stage by challenging the norms of a very traditional whisky category, with unique blends that are at the forefront of whisky innovation globally. The new Wilderness Series will be a limited-edition range of innovative variants rooted in the Canadian wilderness – making the Umami Matsutake Release is the first in this series.
Upon first sip it's warm to the lips and almost cool to the tongue. Coating it with spices and nuttiness, I found myself slowly sipping my first try and allowing it to be enjoyed on it's own or over ice. Your preference really – for cocktail lovers out there I would encourage some adventurous pairings to play off the umami like tart berries, sweet tropical fruit, herbal teas and even nut milks for something extra special.
Because that is, as we all know, the best part of feeling lost or in the dark. The realization that we can and always will find our paths home and to where we are meant to be.
I just finished my latest bottle and can't wait to head to my local LCBO to pick up another. Considering how quickly it sells out I encourage you to do the same before it's too late.
This post is not intended to be seen by persons under the legal alcohol drinking age or in countries with restrictions on advertising on alcoholic beverages. Please remember to enjoy responsibly and never drink and drive.
Photos: Daniel Reyes Cocka & All Social Media accounts listed above
Don't forget to be kind & laugh a little more this year
Mobile photos were taken with my Mobile Device of choice on the Rogers network.
*Please note that this may be a sponsored post and promotional consideration may have been offered by participating brands – our disclosure can be found at all times by clicking here.