As I sit down to write this blog post, I have to admit that I not am not okay with how little Catherine and I see each other these day. The pandemic and physical distancing recommendations haven't helped in that, but with us living so far away from one another, gone are the days of seeing my best friend every day. I guess for many of us, that's kind of just "life" these days and as we get older. So when I do get to see her, I want to ensure that it's the most amazing time I can make it. Which is why I was so excited to plan a quick little getaway to Niagara Falls for some food, some wine, and lots of laughter together. Let me tell you all about the perfect BFF getaway you didn't realize you needed and how you can recreate it this season with yours!
Now of course I am no stranger to Niagara Falls Tourism – from getting excited over the holiday season (click here) to summer getaways with some of the best people (click here), there are so many reasons to get excited about getting back to #ExploreNiagara this year. With the upcoming FLEURS DE VILLES NIAGARA FALLS exhibit launching today and running until October 3rd, now is the perfect time to get going to disconnect from the world and reconnect with your bestie!
So how did I go about doing it all in such short notice? Well it's easy enough to be inspired when you head to the N Niagara Falls Tourism website. If I can make a recommendation, I would highly encourage you to stay at Marriott Fallsview which, Niagara's premier A"AA four-diamond, 5-star luxury Niagara Falls hotel, located just 100 yards from Niagara Falls. Experience world-class hotel accommodations from the closest hotel to the Falls, perfectly situated in the heart of the Fallsview tourist district.
Not only is this property slightly off the main strip, but the views of the falls are some of the best we've EVER had.
For those of you looking for activities and beautiful places to share stories while you reconnect might I recommend the following activities that we both loved:
The Niagara Parks Botanical Gardens
Home to the Butterfly Conservatory, one of the largest in North America with over 180 metres of pathways through a tropical oasis to explore. Located on the grounds of the Niagara Parks Botanical Gardens, visitors to the Butterfly Conservatory are transported to a tropical paradise full of lush vegetation, trickling waterfalls and thousands of vibrantly coloured butterflies. Over 2,000 butterflies, made up of 45 different species, call this beautiful space home. Children aged 5 and under are free when accompanied by a paying adult.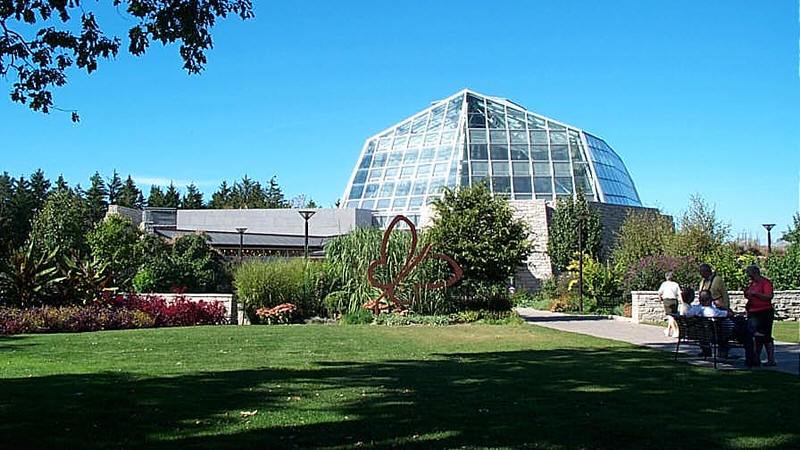 Experience a first-hand lesson in the raw power and peril of the Niagara River's Class 6/6 white-water rapids. The roar of the river provides a deceptive calmness, the perfect ambiance for your walk among the many viewing platforms that put you right at the river's edge. For those looking for an up-close and personal view of nature's power, you will not want to miss this.
Now of course if you're like Catherine & I, you'll love a culinary experience like no other and a beautiful local winery moment. We enjoyed Massimo's Italian Restaurant (located inside the Sheridan), Table Rock House Restaurant, and in my opinion one of the best meals I've had in the world at AG Inspired – a recipient of CAA/AAA 4 Diamonds Award, OpenTable top 100 restaurants in Canada and TripAdvisor's 10 Best Niagara Falls Restaurants and #2 Best Fine Dining in Canada.
Seriously. Every single one of you reading this blog post needs to grab your BFF and make a reservation to enjoy this incredible menu and farm to table hyper local experience. All I can say is wow.
For those of you Maple Syrup lovers, I LOVED The Maple Trail – the world's only indoor Maple Sugar Bush experience dedicated to producing Ontario product. This innovative and educational experience brings to life the history of Canada's Maple Syrup heritage and the production of this quintessentially Canadian food product and flavour that remains an important part of Canadian culture and identity. The Maple Trail also includes a state-of-the-art onsite maple syrup making, bottling, capping and labeling production line. Maple syrup tastings are conducted in flights with mini berry palate cleansers and baby pancakes for dipping and experiencing the unique flavours of this purely Ontario product.
Seriously. I learned a lot and bought many bottles of Ontario Maple Syrup after the experience. Also, OMG ask for the maple ice cream!
As for wineries, you can of course check out my comprehensive list of Niagara Wines here – but this time around we went to Two Sisters Vineyards and new kid on the block The Hare Wine Co. for intimate tastings. If you love wine, both of these are amazing experiences and Insta worthy backdrops as you'll see below.
And of course I would be remiss if I didn't share more details about FLEURS DE VILLES NIAGARA FALLS a little bit more. I've been sharing in seasonal activations for a few years now and I am more than in love with this floral majestic energy that has descended upon the region.
From September 24 – October 3, 2021, Fleurs de Villes Niagara Falls is a one-of-a-kind self-guided, socially spaced, indoor/outdoor floral celebration featuring a Fresh Floral Trail throughout Canada's most iconic destination with 30+ pop-up installations created by top Niagara and Ontario floral talent. Special programming, including culinary experiences, afternoon tea, floral workshops and artisan markets will also take place throughout the city.
Visitors to Niagara Falls can explore the 10-day floral celebration throughout the Fallsview Entertainment District and Niagara Parks. The Fleurs de Villes Niagara Falls Floral Trail is free to the public and will feature stunning large scale fresh floral installations, interactive displays and the famous Fleurs de Villes floral mannequins.
Explore using the trail Map: https://www.niagarafallstourism.com/fleursdevilles/
So if this hasn't inspired you to call your BFF and ask them what they are doing in the next few days or weeks, I don't know what will. Niagara Falls has so much to offer as we all safely return to local tourism. It's a city of food, experiences and one of a kind memories waiting to happen. And I couldn't recommend to you more!
As I have shared here, Niagara Falls Tourism is a magical place to visit and explore. Be that in person, or by sharing memories with those you love with beautiful wines all year long.
This post is not intended to be seen by persons under the legal alcohol drinking age or in countries with restrictions on advertising on alcoholic beverages. Please remember to enjoy responsibly and never drink and drive.
For more behind the scenes of this and other amazing brands I'm working with around the world, make sure to follow along with the #DoTheDaniel Instagram account. I'd love to have you join on the adventures.
Photos: Daniel Reyes & All Social Media accounts listed above
Don't forget to be kind & laugh a little more this year
Mobile photos were taken with my Mobile Device of choice on the Rogers network.
*Please note that this may be a sponsored post and promotional consideration may have been offered by participating brands – our disclosure can be found at all times by clicking here.