I have to be honest with you in the fact that over the course of the last few years, I've lost a lot of the joy I used to take in reading. I was a ferocious reader as a young man and as I got older, I probably found excuses and reasons to not make the time for something that brings me so much joy. Recently I was made aware of an upcoming book from a master of the wine world and it reignited something in me. Maybe because I love to learn and share about wine, maybe I'm coming out of this long winded slump. Either way I wanted to take a moment to tell you about Nature at Heart: For a Better World and why you should pick up a copy for yourself too!
For those of you who aren't aware, Gérard Bertrand has built a wine empire unlike any other in the world. A champion for organic and biodynamic wines in a world that often doesn't understand or justify their methodology, his wines are nothing short of majestic.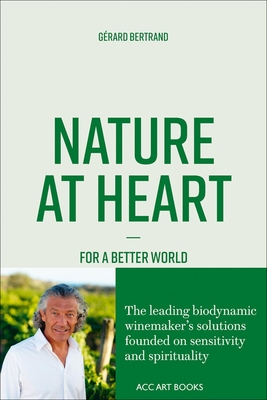 "Being a winemaker means considering nature with humility and respect. Being an entrepreneur means cultivating optimism, transmission and adapting to a changing world. In his book, Gérard Bertrand shares his life's journey and his commitment to nature. Drawing on his dual experience as a winegrower and businessman, he shows how the harmony of ecosystems, respect for nature and the preservation of living soil can be the pillars of a new paradigm, creating the conditions for a more balanced life, and offering hope for new generations. He also analyses the changes in society and invites the reader to free himself from fear and dare, despite the times, to be altruistic, fraternal and open-hearted."
Having recently been invited to a private tasting with the legend himself – which I unfortunately have had to turn down – I can assure you that the moment I can dive into the pages of this book I will. Perhaps I'll spoil myself and get a few photos to help me sink into the romance of biodiversity and the romance of French wine. I encourage you all to get yours when it hits shelves and immerse yourself in an artform like no other in the world.
The event taking place this week in Toronto will toast the Nature at Heart book release, and Gérard will share his 20-year commitment to preserving biodiversity and inspiring other wine growers to deploy organic and biodynamic viticulture practices in the South of France and beyond. While I'm heartbroken I have to miss it I know the book and a bottle (or case) of his will make it all better. If you're curious which wine I would love to try next, click here. And feel free to enjoy it and send a bottle my way too! 😉
This post is not intended to be seen by persons under the legal alcohol drinking age or in countries with restrictions on advertising on alcoholic beverages. Please remember to enjoy responsibly and never drink and drive.
Photos: Daniel Reyes Cocka & all social media accounts listed above
Don't forget to be kind & laugh a little more this year
Mobile photos were taken with my Mobile Device of choice on the Rogers network.
*Please note that this may be a sponsored post and promotional consideration may have been offered by participating brands – our disclosure can be found at all times by clicking here.