While the holidays are going to look a little different this year, it doesn't mean that there aren't magical experiences for you to enjoy safely in your own city with your loved ones. I am a huge proponent for shop local, stay local and spend local, and I've found the most festive experience EVER that I want everyone in Toronto to enjoy. Let me tell you all about it!
I know. A lot of us thought we might travel to see family and hug those we haven't hugged yet in a long time. And while Julio and I maintain safety at the forefront of everything we do, I realized maybe this year we deserved something pretty magical for the holidays.
It's not a shock that I love the Fairmont Royal York and the team there. Recently you may have seen that The Thirsty Elf is getting ready for cocktail kits to enjoy at home while the city faces current restrictions. And while I can't wait for those – click here to read more – there is still a lot of holiday magic to enjoy at the hotel with your special someone.
Did I also mention the current Black Friday Offer is incredible?!
So I realized that Julio, Canela and I deserved a change of scenery to get into the holiday spirit. Yes we're not going to be able to hug our family, but that doesn't mean we can't enjoy some glorious memories by booking a Fairmont Royal York Gold Experience.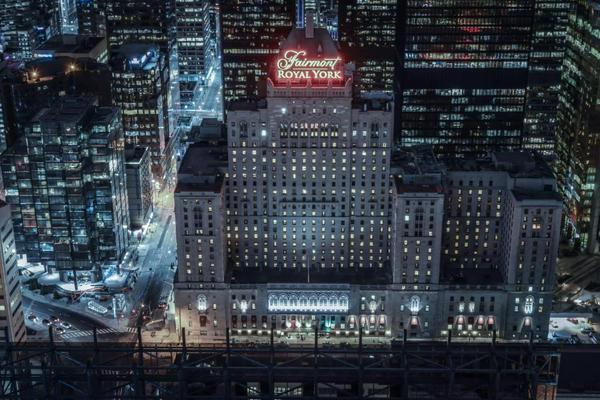 What makes it so special? Despite the fact that I can't wait to see the newly erected tree in the lobby of the hotel, the Fairmont Gold is bar none one of the most luxurious experiences in Toronto. Although slightly amended right now, we will enjoy experiences like a cocktail cart that comes to our room, safe delivery of a chefs plate to the room in lieu of in the lounge, In Room Dining, turn down service… and did I mention that all of this is dog friendly? Canela is going to be the real star I have no doubt! But we deserve it and so do you this holiday season.
Click here to look into your next experience at Fairmont Royal York and to have a #FairmontGold experience this holiday season. If you're going to be in town, you may as well enjoy it in the most magical way.
Follow along with Julio, Canela and I as we immerse ourselves in the festive energy the hotel has created. I hope we help to inspire your own beautiful, festive and safe stay this holiday season.
For more behind the scenes of this and other amazing brands we are working with around the world, make sure to follow along with the #DoTheDaniel Instagram account. I would love to have you join on my adventures.
\Join in on the social media conversation with us by following @FairmontRoyalYork on Instagram, @FairmontRYH on Twitter and by 'Following' their Facebook Page. Share your favourite Thanksgiving 2020 memories along with your meal by using #RYHFestive
Don't forget to sign up for the BRAND NEW #DoTheDaniel e-mail newsletter full of exciting, informative, and have exclusive content and #Contest entries.
Photos: Daniel Reyes & All Social Media accounts listed above
Don't forget to be kind & laugh a little more this year
Mobile photos were taken with my Mobile Device of choice on the Rogers network.
*Please note that this may be a sponsored post and promotional consideration may have been offered by participating brands – our disclosure can be found at all times by clicking here.